Banks and other financial institutions are some of the most essential pillars of society and the economy. Technically, banks hold accountability for their customers' funds and accounts, and these include private citizens, businesses, and government institutions.
As a result, you'll often see banks with private armed security guards to safeguard your money. Armed security guards are essential because banks have remained one of the main targets for robberies.
So, you must ensure that you have reliable bank security to protect your financial institution and your employees. Sometimes, your security will include unarmed guards, who handle minor security breaches. That said, this post will cover why security is a top priority for all financial institutions and why Special Security Services is the right choice for the job.
Why are armed guards necessary?
An armed security guard is trained in the use of firearms to protect against life-threatening, or high-risk crimes. They are licensed to carry a weapon and hold the authority to use it when necessary. Armed security officers are most often used in banks as these are some of the most targeted areas for security breaches, and often life-threatening ones at that.
Armed security guards are hired to provide the highest level of security in high-risk environments. As a result, these security officers have to be highly trained so that they can provide a wide scope of security and risk management. Our guards are highly trained in various forms of security solutions. From martial arts to the latest security tech, we're the best in the industry. At Special Security Services, we will assess and develop a security plan catered to your unique needs. When it comes to the banking industry and financial institution security, access control, parking lot security, and security system monitoring is necessary to be proactive in your security measures.
Bank robberies are not uncommon, and often times hostage situations and shootings are a result of them. Our guards are trained to gauge each security threat uniquely and work with emergency response and law enforcement to manage these situations. However, they are not permitted to use their guns in public places for personal benefits.
LET'S GET YOUR SECURITY GUARDS BOOKED
Get the security services you need at a low price. We're open 24/7. Call now for a quote!
MESSAGE US
Why do you need an armed bank security guard?
Banks are vital institutions. They not only safeguard people's money but also other valuables, such as gold, bonds, and title deeds. Consequently, they require round-the-clock security to ensure everything, and everyone is kept safe. Here are a couple of reasons why you may require our professional security guard services.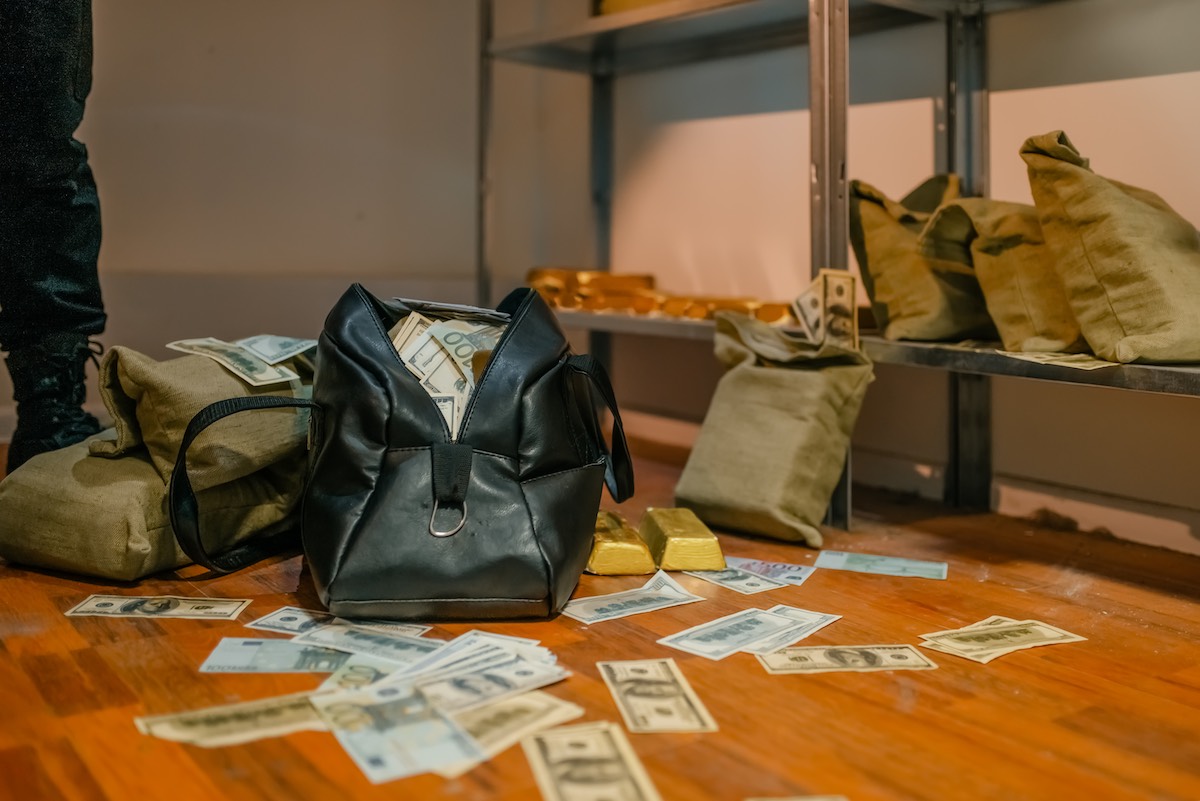 1. To prevent and deter robberies
Robbery is one of the major threats to banking institutions. However, if you have a qualified security guard in place, they can react and mitigate such incidences. Our security guards will be on-site to offer an immediate response when a robbery is in progress.
Moreover, our security company will ensure to conduct a comprehensive assessment of your premises and install monitoring and alarm verification. Additionally, our security guards constantly monitor CCTV surveillance footage to deter or identify robbery incidents.
So, if you want your bank to have the ultimate protection, you need to work hand-in-hand with a security company. Security personnel act like law enforcement, whereby they assess the avenues of risk and deliver a robust security approach that will protect your financial assets, employees, and customers.
Additionally, a security company can offer banks armored trucks. The trucks travel with security guards when transporting money and other valuables from one destination to the next. It is a security guard's role to ensure that the valuables arrive safely in the bank's vault.
2. Workplace safety
An armed security guard also helps to enhance workplace safety. Both employees and clients feel a lot safer when they work or visit a bank that is protected by armed security guards. The guards can be armed or unarmed based on the level of security risk in the bank.
That said, security guards can help promote a bank's business. That's because clients will want to go where they'll have peace of mind depositing or withdrawing their funds. And that is a bank that has a security guard. Furthermore, employees will most likely be more productive because they'll concentrate on their work rather than worrying about their safety.
3. Maintaining order in the bank
Onsite security guards can help maintain order within the premises. Their presence brings some sense of authority to the bank, keeping customers alert. They also ensure that customers conduct their transactions in an orderly fashion.
For instance, consider a situation where a bank has no guard. The clients will hardly make uniform lines, and they'll create a lot of chaos. Ultimately, this affects the bank's atmosphere and banking processes may take much longer. However, a security officer helps mitigate such incidents.
4. Customer service
If you thought security guards only prevent incidents on bank premises, that's not the case. They also act as excellent customer service ambassadors. When a client comes to the bank, they can talk to the security guards at the front desk for assistance.
The guard helps to control access to specific areas, as well as guide clients to specific locations or services they require from the bank. Moreover, some customers withdraw large sums of money. In such instances, armed guards could help by escorting them to their vehicles to ensure their safety.
5. ATM Protection
There have been several incidences where ATMs get vandalized and the culprits get away with all the money left therein. Such incidences were rampant because not all ATMs are situated at a bank's physical location and are available to people after hours.
To avoid ATM-related criminal activity, you need to seek the services of a reputable security company. The company will assign private security to monitor ATMs when the bank is open and even after hours. Having onsite security limits incidences of vandalism and theft.
6. Emergency Response
Another major reason why you need security guards around your bank is that they're mandated to protect the employees and customers during robberies. However, some scenarios may get out of hand, such that your private security can't handle.
Fortunately, guards can contact police officers promptly to get the necessary assistance. Moreover, they're required to make regular reports to both law enforcement and management.
Why choose us?
Special Security Services is a company that's dedicated to protecting people and providing for their security needs. We are the best fit for your financial institution, ensuring that your assets and patrons are safe.
We only hire qualified personnel. To ensure that an individual meets the company's requirements, we must conduct a background check. We only want to provide you with the best. Moreover, we have over 20 years of experience in this field. Therefore, you can rest easy knowing that you'll only get quality when it comes to safeguarding your bank.
We understand that time is money. Literally. Therefore, once you contact us, our guards get dispatched to your premises as soon as possible.
Additionally, our guards are well-trained, licensed, insured, and bonded. Therefore, you need not worry about anything in case an incident happens at your bank. We've got you covered. Our qualified experts also have many years of experience in security, enabling them to handle a wide range of scenarios and develop a unique security program to fit your needs.
We have worked with plenty of clients, from celebrities to corporations and large events. We offer a wide range of services, including vehicle patrol, which we can explore as we assess your current security measures.
Connect with us today to learn how we can level up your security and provide you with the best in the industry!
LET'S GET YOUR SECURITY GUARDS BOOKED
Get the security services you need at a low price. We're open 24/7. Call now for a quote!